SO, HOW DO YOU TEACH 'THE TALK'?
Last Sunday (7th April) we held our first launch event! Hosted with Sexplain the day was a huge success. We've summarised the main points if you weren't lucky enough to be there.
In the morning, we focused on analysing a teacher's identity and how identity can create practical issues for a teacher when delivering Sex and Relationships Education. In the context of an education system where teachers may be required to deliver sessions when asked rather than volunteering to do so we looked at where teachers may be scared and how they could prepare. Sex Education cannot be treated as separate from the rest of life and as facilitators, considering your own identity can make it easier to acknowledge your own insecurities in providing SRE. Acknowledging those parts of your identity means you can identify where and how you may need help which improves everyone's experience.
For example, one group talked about where a trans male teacher might feel scared/nervous to talk to group of boys about masculinity as part of their Relationships and Sex Education. They highlighted issues of being frightened of being 'outed' by pupils or how the teacher's experience as a man may be different from the boys in the class. As part of the lesson prep the teacher should considered the experience of masculinity for young people today i.e. in a world of toxic masculinity and a post #MeToo world. As part Teaching 'The Talk' training we thought about what parts of identities might make certain topics harder to teach for an individual.
As a larger group we also discussed the identity of being a 'sex ed' teacher. In many schools it can fall to the responsibility of one teacher to provide all the sex education within the school and how this is an immense amount of pressure on one person to provide all the support and information for all young people in one school. At Teaching 'The Talk' we want this pressure to be shared within schools where all teachers are expected to be facilitators and feel the confidence to do so.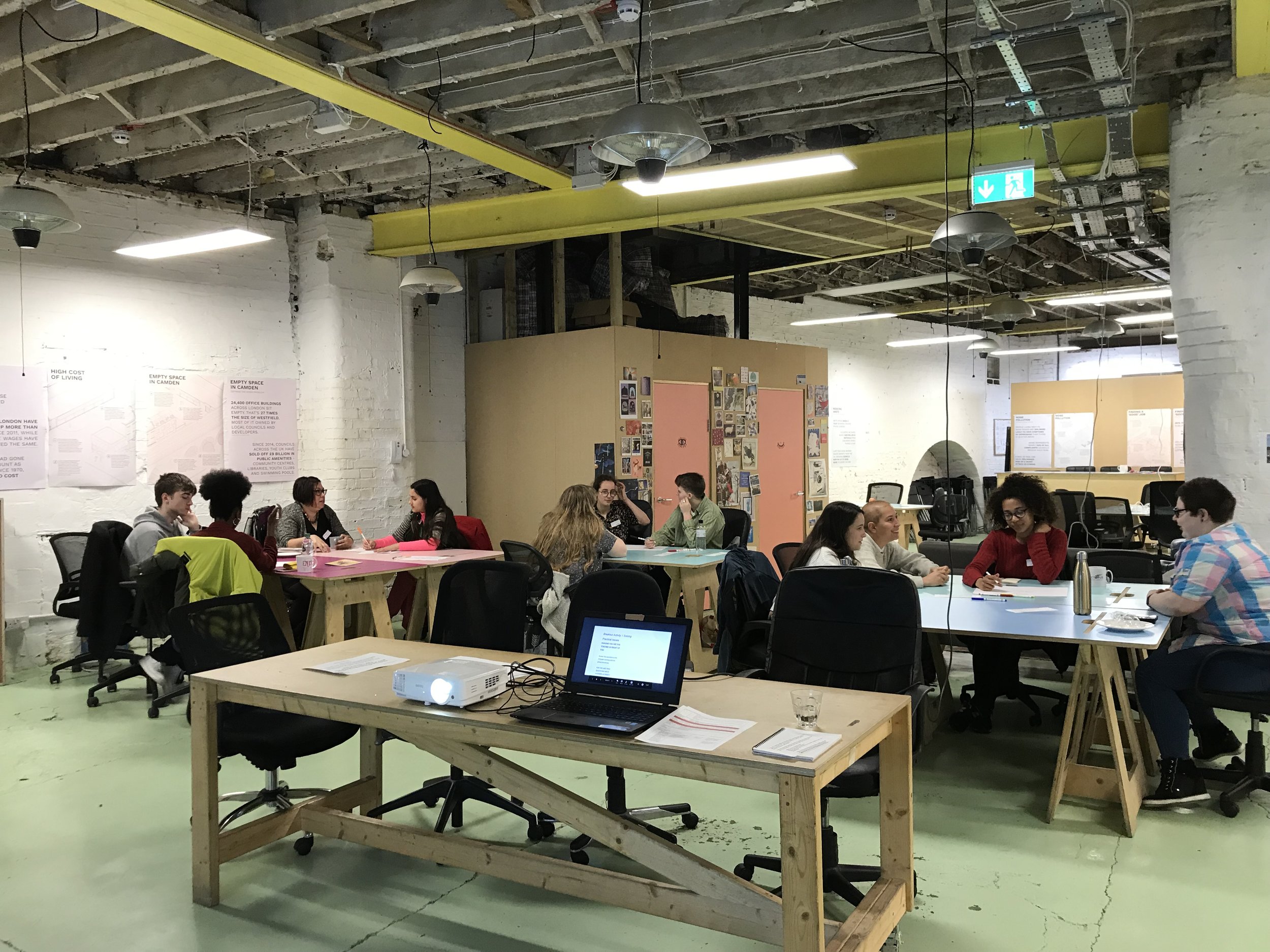 After this session we heard from our incredible panel! The panel was focused on youth activism and engagement. While Teaching 'The Talk' is a Sex and Relationships Education project, I was interested in youth activism and wanted to hear from young people who are involved in their own projects which may not necessarily be SRE related.
Afua Ansah, cofounder of Prblmtc Blog and an online activist spoke at length about how to treat young activists with respect. She raised the important points of reimbursing young people for their time and incentivising activism from those who may not have a lot of time to give. If people do not have the material resources to access your events/projects their voices will simply not be heard. Afua spoke specifically about university students. She made the point that statistically BAME and Black students do not achieve as highly at university as their white peers. By asking them to donate their time to you without reimbursement you take away from time they could be spending on their studies. If young people, especially those from marginalised groups, are part of your organisation or could be then incorporate them fully into everything you do not just as an afterthought. Make sure you make being part of your organisation accessible to everyone.
Dhillon Kaur, author of You are the Beholder and illustrator. Dhillon's book looks at body positivity and how we can turn our insecurities into something positive. On the panel Dhillon talked about how she can often feel like she is being used as a token rather than people taking into account the importance and gravity of her work. Her answer to removing this element of tokenism was to provide more events and spaces that were youth led and take young people as seriously as anyone else in the room. It became clear from all members of the panel that often older people can support their younger peers by amplifying their voices. We should see more young people represented in events, on panels and leading workshops – especially in Sex and Relationships Education.
Our final panellist Adam Abdullah is Lewisham's Young Mayor and ran a socialist feminist campaign. He made the interesting points of how being a digital activist may put you in a difficult position where young people reach out to you and you may not be equipped to help them. Adam's point raised the issue of social media platforms not doing enough to protect those who use them – especially younger activists and users. It is clear that young people are struggling to find support and so they may reach out to peers they see online, this however puts an extraordinary amount of pressure on the young person they ask for help. We have to move forward in helping those who use online spaces as activists in making sure they don't feel pressure like this.
(the panel) showed that young people were just as, if not more, able to affect real change than older people
The final session of the day focused mainly on the practical steps that teachers can follow to make their classroom a 'safe' space to facilitate SRE. The groups focused on defining what a safe space is to them and then creating practical step flowcharts to achieving these. One of the groups identified the key term 'emotional warmth' as key to achieving a safe space. They then worked through practical steps to achieve this. Activities like these can be great in support both teachers and young people in sex ed, creating practical steps is always going to be easier than using vague terms such as safe space for facilitators and educators to follow. It became clear at the event that this is something to be explored with facilitators.
An interesting point that was raised was the use of the term 'safe space' in the first place and whether it is actually too politicised. To some people the term represents a lot more than just an environment where everyone feels confident to be there but is more associated with politics of the left. We considered whether it would be more useful to moved towards using a different term so that activities were productive and 'safe spaces' were created. There should be spaces to debate what a safe space in but in teacher training time is very limited and safety of the space is much more important that the term used in the first place.
How do we define 'safe space'?
The launch event left me feeling productive. I think sometimes we get so concerned with debating the basics of Sex Ed we don't actually encourage creative ideas in how we plan to implement the new curriculum. In my opinion we now have a curriculum, likely to pass through the House of Lords and become law, so we should be focusing on HOW we are going to teach it. Teaching 'The Talk', will continue to work in this productive manner. Our ethos and values are clear and will remain clear throughout, we will have a comprehensive and inclusive SRE system and young people will be at the forefront of making that happen.
Thank you to everyone involved especially Amelia and Dolly at Sexplain! As always you can get in touch with at us at our contact page. It's really exciting time for the project - you don't want to miss out.